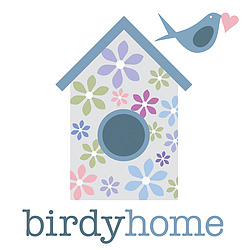 Birdyhome was launched over four years ago offering a range which is influenced by our love of the quirky, nostalgic and vintage.
As a typical graphic designer I love beautiful typography, lettering and illustrations, the prints that we produce are put together with care, we spend time making sure kerning and spacing are just right and we offer prints in a wide range of chalky colours to suit every taste.
The collection features bespoke gifts for birthdays, weddings and special occasions, and lots of the items go together, enabling the customer to create something very personal and unique. Some of my bestsellers are Personalised Prints for Grandparents and Parents; White Framed Hearts suitable for weddings, engagements or anniversaries; Framed Prints for all occasions; Tea Sets with Personalised Invitations and Nature Trail Kits. We're always looking for that perfect idea to add to the range.
Making the gift look extra special is so important to us and we use tissue paper, stickers and a gift card which is often appreciated, there is nothing better than receiving positive feedback from a happy customer.