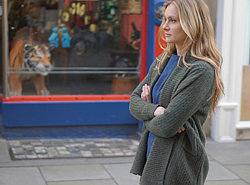 bibico brings you easy-to-wear, chic, ethical additions to your wardrobe. You will always find beautifully-made, stylish cotton pieces, super-soft jersey tunics and tees, on-trend prints, hand-embroidered detailing and gorgeous and interesting knitwear and accessories in our collections.
All of our knitwear is hand-made out of the finest quality wools. We make deliciously soft cashmere scarves, delicately knitted mohair cardigans and chunky-knit jumpers to keep you snug in Winter. Then for Summer, light cotton knits to keep the cool at bay. We use natural materials and natural dyes to bring you a quality garment for you to enjoy for many years.
Who makes our clothes? Nieves Ruiz-Ramos, the Spanish designer behind the label, whilst travelling in India discovered a clothing co-operative run by women who come from poor, marginal communities. Nieves saw the opportunity to develop her own label and support the efforts of these inspiring women. Our woven collection is now made by this Fair Trade group in India and the knitwear is hand-made by a similar Fair Trade group in the mountains of Nepal.
Bibico has quickly become a leader in the fast growing 'sustainable fashion marketplace'. 2009 saw bibico win the Ethical Fashion Award in Paris (the first non-French label to do so). Our ethos: to make delightful fashion that supports people and the planet.