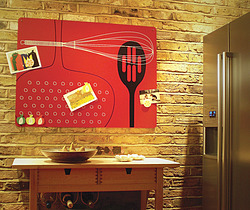 Beyond the Fridge has become well known for big beautiful magnetic notice boards / metal wall art panels, available in a large selection of designs. Also discover stunning designs from 'The Metal Art Company' and fabulous, authentic London Street signs from 'Street Name Desire'.
Our magnetic boards look great in any room in the home, not just the kitchen. Children and teens love them in their bedrooms to display their photo's, party invitations, festival tickets etc. They make a cheerful and practical addition to the home office or study too. Some people buy our boards as wall art as they have real wow factor, are made of high quality steel and have a glossy finish, just like the old enamel advertising signs. And what's more, we make everything ourselves here in Somerset, England
Some of our products also have 'create you own' or personalisation options available. However, if you can't find exactly what you're looking for or need any help and assistance, please do contact us.