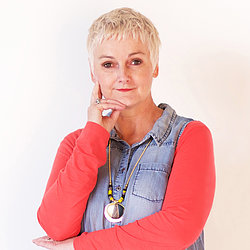 Welcome to Beyond the Fridge, a unique collection by British designer Amanda McIvor.
The design philosophy behind Beyond the Fridge, is quite simply, to create beautiful and distinctive things for the home that you wouldn't ordinarily find on the high street. "I'm often asked, why Beyond the Fridge?", says Amanda," and I explain how the story started back in 2007 when our friends and family were constantly admiring our large piece of steel that we had in our kitchen. As we had an integrated fridge it was somewhere to put all our invitations, lists, photos etc. We were constantly being told what a brilliant idea it was so we decided it would make a great product, especially if we could create bold and colourful designs, so Beyond the Fridge was born. Now that we have diversified our product range our brand stands for being a little bit different, hence our mantra different by design. I enjoy the challenge of designing for different materials and I'm really excited about developing new products for the home, from textiles to furniture."
Amanda has always been interested in surface pattern and design even from an early age. Perhaps this is why a lot of her work has a retro feel as she is particularly inspired by Mid-Century artists and designers. Amanda's ideas and themes often begin with drawings straight from her imagination with her own idiosyncratic twist. "Having a complete free reign as regards to design content actually makes things quite challenging" says Amanda "especially as I've been accustomed to answering a client's brief for a large part of my working life. However, I really love that sense of freedom and it's great to receive positive reactions to my rather quirky designs."
After moving the business from London to the West Country in 2012, Amanda and husband Duncan set up Beyond the Fridge's own workshop in Frome, Somerset, where most of the product collections are now made, giving them total control over the entire process, from design to delivering the quality we all expect from British made products. "Our entire production process is unique and allows us to produce small quantities sustainably, whilst offering a wide range of designs and colour-ways."
Amanda and Duncan met at Art School and together they went on to form their award-winning design company a year after graduating. Following a long career working for many of the UK's leading brands, the catalyst for establishing Beyond the Fridge was born through a desire to be free from the constraints of corporate design, achieving a long held ambition to bring together their own unique collections of original products for the home.