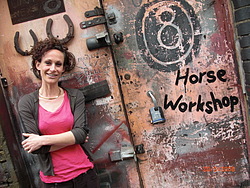 Bex Simon is a female artist blacksmith and product designer. She has been creating exciting and original contemporary metal work from her forge since 1999, and now together with her husband, David, has taken up producing castings with the creation of her range of cast iron kitchenware, Art for Kitchens.
Each piece of 'functional art' is inspired in some way by the wonderful Art Nouveau movement, featuring organic lines and tactile shapes. Cast iron is a traditional material that is humble, yet durable and much loved and trusted over the centuries.
This range of cast iron kitchenware makes the perfect gift, especially for design and art lovers. The branded packaging has been carefully designed to make the opening experience a joy in itself.
Just like Bex's blacksmithing, every piece is 'forged with love'.