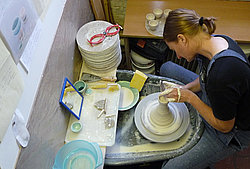 Beverley Gee creates beautifully designed ceramics for your home. From original 3D wall hangings to stunning porcelain brooches. Each piece is unique yet shares a sophisticated design aesthetic.
Beverley specialises in producing contemporary porcelain products from her studio in Salford, Lancashire. Throwing on her potter's wheel is her passion, bringing to life the beauty and elegance of porcelain. The strong clean lines and subtle decoration allow the pieces to sit quietly in your home inviting contemplation. Beverley prefers to use porcelain as opposed to bone china which contains animal derivatives.
When you purchase a piece by Beverley Gee you can guarantee that it has been made from start to finish by herself. She does not buy in pre-made pottery and merely decorate it. She enjoys being involved in the whole creative process. Therefore ensuring the high quality we have come to expect from this fine maker.