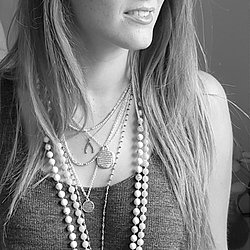 Shhh. Some things are just between the two of you.
Some sentiments are so intimate they can be hard to put into words. Be it a message, a word or a name. Something to celebrate, inspire, encourage, or simply because…
Under the Rose is a unique new collection of fine silver necklaces, bracelets, lockets and tiny photo charms created by our silversmith in her riverside studio in Surrey.
Each item is inscribed with a word or message that has a special meaning for the two of you, whether it's a family member, a loved one or a close friend.
You can choose one of our messages or personalise a message of your own. But whichever you decide, you'll be giving a distinctive piece of jewellery that's a constant reminder of the two of you.
Check out our other range of personalised jewellery, capturing fingerprints, hand and foot prints and even a few paw prints!
www.notonthehighstreet.com/buttonbean