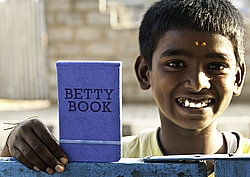 Every time you buy a beautiful betty product you continue the story of two English girls who met in Bangalore. Overwhelmed by the poverty around them they hatched a dream, to build a future for people who have been forgotten.
Betty & Betts is bonkers about people and the environment and so the Betties only work with certified fairtrade suppliers in India. Our design team along with our amazing crafts people in India make beautiful and luxurious leather accessories. The leather is produced in a special way to ensure a soft buttery finish. This also provides a fantastic and rich colour to the leather. No harmful dyes are used in the process of making Betty products and all waste is disposed of responsibly or recycled. All linings of our accessories are made with organic fabric and beautifully printed with azo free dyes.Its important that all our products are perfect for you, accessible, fair for our suppliers and respect the planet we live in.
But how could we forget 'Sausage' our Betty mascot made in brass?! After living in India for 4 years, working on the ground with developing crafts people, we adopted Sausage from a farm in south India. We fell in love and brought her back to England where she has made lots of friends. She is important to us because she reminds us of the producer groups we work with and our vision to provide sustainable employment that will support them and their families for a better future.
All products are deeply practical considering the security of items that are important to you on a daily basis. However mundane the Betties are determined to make carriers for your belongings that are high quality, exquisitely produced and on trend.
The Betty vision is to build a future for those who have been forgotten by investing a percentage of our profits into a very deprived orphanage we used to volunteer at whilst living in India.