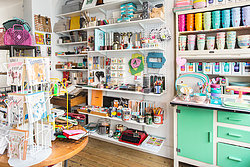 Welcome to Berylune - The Pint Sized Department Store!
Berylune is a small, friendly business with an independent retail shop in Royal Leamington Spa. We opened our doors in May 2012, much to the delight of our local customer base. We are thrilled to be able to offer our quirky product range to Notonthehighstreet.com customers! The Berylune team is small but perfectly formed - sisters Emily & Amy and their best friend Zoë.
You will find we sell an eclectic mix of vintage interiors, modern crafts and just about anything that takes our fancy! We make some of our own products, carefully select or repackage the rest. Everything you see on our Notonthehighstreet.com shop is stored in, packed and posted from our bricks and mortar shop by a team of just three of us - not an impersonal 'fulfilment warehouse' in sight. We take pride in taking our own photos, we use as little stock photography as possible.
Should you have any queries about any of our products, please get in touch. We are always happy to hear from you.
Remember - without Rainbow order, there is no order.