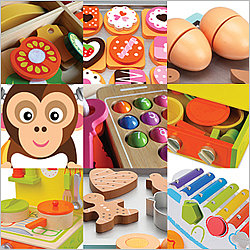 Bee Smart provides innovative, fun and colourful wooden traditional toys for pre-school children that stimulate creative and imaginative play. Toys are of premium quality with an educational element, featuring unique designs and a practical edge.
We are about providing quality, creative products enhancing play value, encouraging education and independent learning as well as introducing young children to the delights of music making. Our innovative designs will hold your child's interest whilst enhancing hand and eye co-ordination, fine motor skills and creativity.
Our full range of products are tested and comply to European regulations for the safety of children.
We are delighted that you have shown an interest in our product range, and hope that you will find something special for the little ones in your life.
Reasonably priced products which will be a huge hit for the upcoming festive season. We hope you like them!