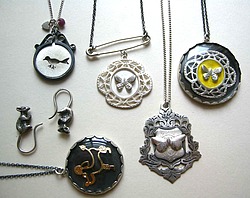 I'm a born and bred Lancashire lass, but now located in London and Kent, I've been designing and making fine and bespoke jewellery since the year 2000 after graduating from Central Saint Martins in London.
My work is steeped in tradition but with a contemporary twist, the jewellery evokes classic designs of yesteryear (think cameos, delicate engraving) yet is comfortable in a modern context.
I work mainly in silver and gold with details that include enamels and tiny gemstones, it's nostalgic, quirky and charming in every sense, I'd like to think of them as future heirlooms!
Becca Jewellery is currently stocked in some of the best independant Jewellery boutiques in the country and a large stockist in Japan.
My work has been featured in many fashion publications-Marie claire, Elle, Es Magazine, The Evening Standard, Guardian, Sunday Telegraph Glamour, Grazia and Time out.
I also undertake commissions and would be very happy to help with any happy circumstance!