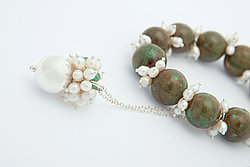 ******PLEASE NOTE WE ARE CLOSED FROM THE 19th OF DECEMBER TO THE 5TH OF JANUARY *****
Because it's Lovely specialises in handmade jewellery, lovingly made with Sterling silver, gemstones, ceramic and pearls. We believe in creating beautiful but equally wearable jewellery which compliments whatever you are wearing whether it is for every day or a special occasion. We pay great attention to detail and, in particular, to the way all of our pieces hang.
Many of our customers are repeat buyers who first came to us at Because it's Lovely looking for a gift and have since returned to buy themselves something special.
We hope you enjoy wearing our jewellery as much as we enjoy creating it.
******PLEASE NOTE WE ARE CLOSED FROM THE 19th OF DECEMBER TO THE 5TH OF JANUARY *****