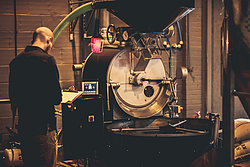 At the Coffee Factory we are passionate about coffee…..We have been roasting coffee for over 6 years and our approach is focussed on responsibly sourcing the best tasting seasonal coffee the world has to offer, and sharing this experience with you.
To truly achieve a great coffee you need a true craftsman. We use our experience and senses of sight, smell, sound and touch to form the foundations of our craft. Theres no setting a timer and walking away, our head roaster Danny carefully monitors our beautifully restored 1950s Probat roaster Dorothy, logging every minute of the roast. We are always sourcing, cupping, roasting & tweaking to unlock the best flavours and personality of every coffee. This is our formula for each and every coffee that comes through the Roastery.
Our beans are selected and sourced from the most passionate and independent coffee farmers and roasted with care in our award winning roastery in the Devon countryside. We know exactly where our beans come from and who grows them. We're passionate about sharing these stories and celebrating the provenance of the coffees, and the people whose hard work makes them so delicious. We aim for 100% traceability ensuring that the farmers receive a sustainable living cost for producing great coffee.
We select each coffee variety based on its unique flavour and ensure that the coffee is packed and in the post within 7 days of roasting so you get the freshest coffee experience possible, right through your door. Freshness you just can't find on the high street.
Treat yourself or someone else special to a unique coffee experience.
We currently offer a 3 and 6 months discovery and some great gift packs for brewing coffee at home.