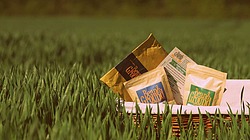 With Bean & Ground you can discover two different varieties of the freshest coffee from around the world, through your letterbox, every month.
Our beans are selected and sourced from the most passionate coffee farmers from around the world and hand roasted with care in our award winning roastery in the Devon countryside. We hand select each coffee variety and ensure that the coffee is packed and in the post within 7 days of roasting so you get the freshest coffee experience possible, right through your door.Freshness you just can't find on the highstreet.
Treat yourself or treat someone else to a special gift of discovering fantastic coffee.
We currently offer a 3 month memberships.