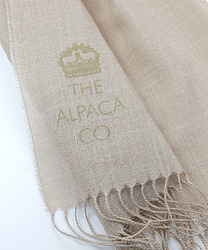 Founded in 2004, The Alpaca Company is a specialist British brand which uses ancient fibres and creates modern designs.
Steeped in history and heritage, Alpaca wool clothed the Kings and Queens of the Andes, now The Alpaca Co. brings you a luxurious range of fashion accessories, baby blankets and homeware made from this fabulous wool.
Do not just follow a herd, join the Royal herd; our fibres are the finest in the world, soft to the touch and pleasing to the eye. The Alpaca Co. creates playful colours and designs with interesting print and dye effects which are fun and fresh.
Alpaca is a 'Speciality Fibre', which means it is both rare and elite. It is silky, soft, durable and has unique thermal properties due to microscopic air pockets within the fibre structure. These hollow fibres lend themselves to help create lightweight, breathable knitwear that keeps you warm in the winter and cool in the summer.
This antibacterial fibre actually repels bacteria and odour which means garments can be worn against the skin again and again and remain odour free.
Man can not match nature. No other material, natural or manmade can improve on the natural properties and qualities of alpaca wool. It is hypoallergenic, elastic and non-flammable.
Our Peruvian Alpaca fibres are the finest and softest in the world. Since 2004 we have carefully sourced our yarn from ethical and sustainable suppliers, whose quest is to produce the finest alpaca yarn and so have extended their efforts from fibre development to animal welfare and breeding, whilst involving and educating local farmers.
If you have not worn alpaca wool before, this may be because it is not as readily available to designers and manufacturers as fibres such as cashmere and merino. Alpaca is not mass produced worldwide, but instead carefully and selectively developed in a small handful of countries, including Peru, Bolivia and Chile which have 98% of the worlds alpaca population.
Thank you for purchasing from The Alpaca Co.