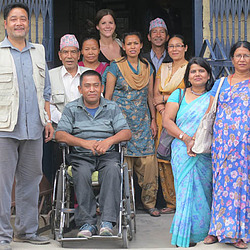 AURA QUE creates a range of stylish contemporary accessories manufactured by the Nepal Fair Trade Group to increase ethical production in the developing country of Nepal.
Each AURA QUE design is brought to life in a Nepalese factory that employs local people, some affected by disabilities, providing an income for themselves and their families according to fair trade principles.
AURA QUE incorporates local Nepalese materials wherever possible, such as hand-knitted banana yarn, allo hemp, handmade brass fittings, hand-woven cloth and high quality buffalo leather – a by-product of the Nepalese food industry.
AURA QUE products are individually hand crafted in Nepal, which may result in slight variations. The unique story behind each AURA QUE product enhances its charm!