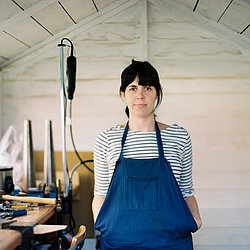 I am jewellery designer and maker working out of my studio in Cheltenham, Gloucestershire. My collection contains a mixture of elegant simple symbolic designs along with more organic pieces.I use a range of materials in my jewellery designs including sterling silver, yellow, white, and red gold, and gemstones. Whenever possible I use recycled precious metals and any gemstones used are ethically sourced.
For me there is luxury in handmade and hand crafted pieces. A machine look is not what I'm about. Something that has taken time to make with its unique differences and makers marks holds true value.
Every piece I make starts out as a sketch in my notebook, slowly variations are created until the lines drawn are realised in the final piece (which isn't always how the original sketch looked!). I take inspiration from the natural world and historical art and how jewellery has been used through the centuries to define us.
All pieces are made to order and as such any alterations or variations can be discussed. I love working with clients to create bespoke pieces of jewellery, please contact me if you are interested in bespoke pieces.
Each piece is gift wrapped in it's own white gift box and tied with a satin ribbon to make it extra special when it arrives.