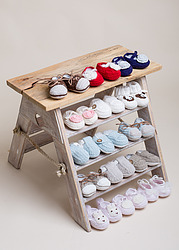 We are a small team of knitters and crafters who design , make and sell handmade products made in bamboo, Cashmere or organic cotton yarns. We specialise in soft toys, hats and shoes for new borns, babies and young children.
Most of our products are handmade and each item has its own particular charm and character. They are extremely soft and well made to high standards. With both classic and funky designs, our products are well received if they are given as gifts.
(All our yarns are certified organic by OCIA and Oeko-Tex 100. Organic bamboo forests are managed under strict FSC certification.)
In 2014, we expanded our product range into a brand new category. Our in-house jewellery brand, Nu:Nu Fine Jewellery, specialises in contemporary quirky styles that are designed or selected by our young designers, for young people. With a particular thought to 'tween' age girls with their ears pierced for the first time, many of our Ear Studs are smaller in size than mainstream brands to look more appropriate on a smaller ear. Most of our jewellery is made in sterling silver which has at least 92.5% silver content. Raw material and components are sourced worldwide, we assemble or make our jewellery items in our Dorset studio. Our ear studs have been seen in TV series Hollyoaks and New tricks.
We continuously develop our product range and upload new products twice a month.