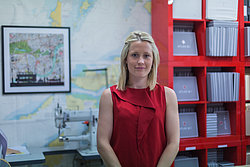 Atlas & I is a unique gift company that specialises in making wonderful personalised products, all printed with vintage maps of your choice.
Founded by designer Sophie Kirkpatrick in 2011, the bespoke gift company offers a variety of personalised products ranging from leather stationery and fashion accessories to wall art and greetings cards, all made to order, here in the UK. Their unique silhouette artworks are the only pictures of their kind. They are made by printing a silhouette of a hobby, memorable event or iconic scene on a reproduction vintage map relevant to the subject. This means that all the pictures produced by Atlas & I are personalised to each and every customer. The range continues to grow week by week with more exciting silhouettes and themes. In the true nature of the business, Sophie still creates one off silhouettes based on photographs she is sent, to make that extra special picture.
The bespoke leather stationery range grew organically in the first year of the business through popular demand and now encompasses journals, photo albums and guest books. The team individually print and stitch the covers of every journal or album ordered, binding them over the soft Italian paper by hand in their studio in London.