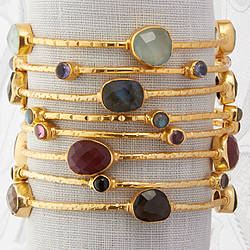 Bespoke Ashiana costume jewellery ethically made in India for Hurleyburley to retail exclusively on notonthehighstreet.com.
Ashiana is a celebration of colour and texture culminating into a collection that is irresistible. Inspired by cultures and colours from all over the world the designs are a reflection of these. From casual wear to sophisticated evening wear, Ashiana offers something for every mood.
The pieces are made from semi precious stones and pearls using materials such as silver and gold. These are all specifically chosen by a member of the Ashiana team from destinations all over the world and brought to our workspace where each creation is made by hand. Each of our collection pieces for Hurleyburley is unique and much love has gone into the concept, creation and delivery of our jewellery to you!
To view our Personalised Ladies collection visit Hurleyburley www.notonthehighstreet.com/hurleyburley
To view our Personalised Junior collection visit Hurleyburley www.notonthehighstreet.com/hurleyburleyjunior
To view our Personalised Men's collection visit Hurleyburley www.notonthehighstreet.com/hurleyburleyman