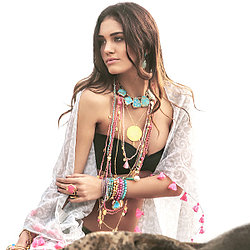 Ashiana is a celebration of colour and textture, inspired by cultures and design from all around the world. We believe that women should always accessorise. We don't believe in over dressed, we're fans of mixing it up and that little imperfections make things just right!
From casualwear to sophiticsed everning wear, Ashiana offer something for every mood at an affordable price.
Each piece is made entirley by hand, using a combination of semi precious stones and pearls with silver and gold plate. Each item is designed in London, drawring inspiration from destinations all over. We pride ourselves on the love and care which goes into each and every item we make, and hope that you will treasure them like we know you will!