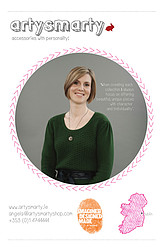 Welcome! artysmarty specialises in handcrafted jewellery designed in contemporary themes drawn from nature. All of the pieces are made in my studio in Dublin city centre - I hope you'll find something unique and individual to wear for the every day. I would describe my jewellery as vintage inspired with personality.
Most of the pieces are made from resin, wood, antiqued brass and copper and ceramics and are ready to give as a gift (most items come in a box) or keep for yourself! I love working with these materials as they are flexible, strong and unique.
I began artysmarty in 2009 at small market stalls, grew in popularity and now supply some of the loveliest shops in the UK and Ireland (the V&A Museum and JOY). I work with my team in Dublin's vibrant city centre producing all the jewellery pieces individually from the Dame Street studio.