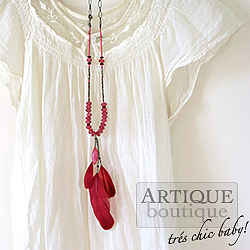 Hello and welcome to Artique Boutique! My name is Joanne and I meticulously hand craft all my jewellery in my studio by the sea in Cornwall.
My jewellery collection consists of mix and match pieces, including beaded necklaces, earrings, beaded bracelets and cocktail rings. All in a feminine, bohemian style - guaranteed to make you look and feel gorgeous! My designs are either one of a kind, or limited-editions, so you can be confident knowing that you are wearing something that is unique, original and exclusive.
My greatest joy in life is to work with colour everyday. I love to create stylish designer jewellery with an emphasis on colour, texture and detail. I aspire to create wearable works of art that will make you feel special whenever you wear them. I delight in the raw materials that sit in my studio, and I love to let my imagination wander and pick out little colour stories that weave from one item to another. Every piece has it's story to tell, and part of that story is to make you sparkle, sizzle and shine!
I love what I do, and I pride myself on my customer service. I'm always happy to go that extra mile to make your shopping experience with me pleasant and enjoyable. I offer a 28 day money back guarantee if you buy something only to find that you're not happy with it. But I'm confident that you will be just as happy, shiny, and delighted as all my other customers!