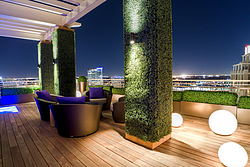 Operating from our workshops and offices in the heart of North Yorkshire, Artificial Landscapes has been designing, manufacturing and importing artificial trees, plants and greenery for almost 20 years. During that time we have created designs for some of Britain's largest companies.
At Artificial Landscapes we have developed and dealt with a full spectrum of customers from direct mail order right up to supplying all the artificial planting for the Olympics and everything in between. The special thing about Artificial Landscapes is that we are not only a retailer but also a manufacturer. We import the raw material which the majority of our competitors sell in this current format. Our craftsmen and designers then get creative, and we make them a little bit different to the rest of the products on the market.
Some of our most creative products are hand built instant topiary hedging, hedging lettering and artificial grass furniture, the list goes on! Despite our products often being very bespoke and hand built, we still offer very competitive prices. If there are any products you like the look of but require a different variation to make it right for you, then get in touch as all of our products can be built to suit any size and any budget.