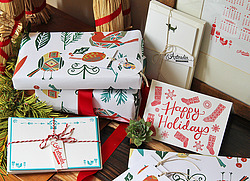 Artcadia is a little stationery and design studio based in Shrewsbury, UK created by designer Vici-Jane Kohring, who is happily married to Richard Kohring, a printing guru and owner of Artcadia Letterpress.Artcadia's stationery features Vici-Jane Kohring's design work, illustrations and hand lettering. We offer unique and high quality wedding stationery, invitations, and custom artwork.
Every year Artcadia raises money for Barnardo's Children's Charity, usually through Christmas card sales. This year we've gone all out and are offering an exciting range of cards, gifts, wraps and more, here at our Christmas pop up shop. All profits will go directly to Barnardo's where 95 pence in every £1 they spend goes towards helping vulnerable children, young people and their families across the UK. Visitwww.barnardos.org.uk for further information on the UK's leading children's charity.
Our stationery and invitations have been featured in publications such as Brides Magazine, You and Your Wedding, Perfect Wedding, Wedding Ideas Mag and Your Wedding Magazine, where Vici-Jane regularly appears as the stationery geek on the expert panel. Not to mention blog features, which include Oh So Beautiful Paper, Paper Crave, Love My Dress and OMG I'm getting married.All of our products are printed here at Artcadia, where we cut and finish each and every item by hand.