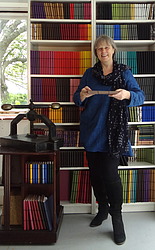 Welcome to the wonderful world of Artbox.
The home of simply beautiful and highly original leather stationery and elegant accessories handmade with love and care in our Sussex studio from natural, recycled and sustainable materials.
A smart and stylish collection with broad traditional appeal. Artbox recycled leather notebooks and albums are design classics, refillable thanks to our unique elastic binding style but often collected as bright little libraries!
At Artbox "everyone is an artist!". Our books, albums and frames are well stocked in a great range of colours and make perfect DIY personalised gifts. We also make beautiful bespoke books. Artbox director and designer Susan Thompson delights in creating and supplying distinctive long lasting work for "a thing of beauty is a joy forever."
Our new personalised range of engraved leather books, albums, frames and accessories draws on decades of experience in the Artbox studio as specialist bookbinders making books for corporate and retail clients.
We love making bespoke books and will make them exactly as you wish to be as unique as you are - order from a simple range of options or contact us directly for all the friendly help and advice you need to create a perfectly personalised gift to reflect your own special individual style.
From beautiful leather books and albums to robust recycled leather place mats and hand sewn leather wallets to quirky leather frames and limited edition seasonal gifts, the vibrant Artbox collection offers the very best of British made eco friendly gifts, designed to make the world smile!