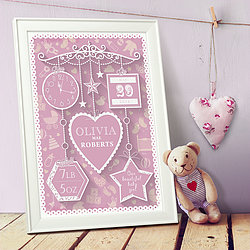 Hello and welcome to Art adventure.
I started Art adventure back in 2006, shortly after the birth of my daughter. What I wanted to offer was a fun way to decorate children's rooms, but also a talking point for parents and kids, as each piece tells its own story. Our exclusive collection of kid's wall art is sure to provide unique room décor that your children will love.
Combining a passion for typography and vintage design we launched a range of personalised typographic prints in 2014, designed to commemorate the special details of your New Baby, Christening, Wedding or Anniversary. Our Music Legends range inspired by a love of music is a typographical tribute to some of the world's greatest guitarists, blues and jazz legends.
All artwork is professionally printed to order. If you need something in a hurry or have any bespoke special requests, please get in touch using the 'ask seller a question' button and we'll see if we can help.
We are continuing to expand our product line with the goal of providing vibrant, interesting and contemporary art for your home.
All work copyright © 2016 Art adventure