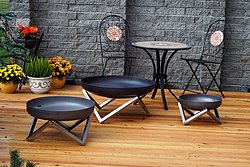 Arpe Studio UK is a creative partnership between a small group of UK and Lithuanian based designers creating and manufacturing Nordic design inspired furniture, home decor items and outdoor fire pits.
By incorporating steel and complimenting materials like wood and glass we create lines which allows seamless integration with the existing environment.
We believe that a well designed product is capable of prompting different reactions from different people. To achieve this we dare to experiment, but at the same time pay a great attention to practicality and functionality of the objects we design.
During our manufacturing process we combine the use of latest technologies with craftsmanship to ensure the highest quality and aesthetically pleasing look of our products.