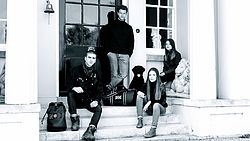 Apatchy was set up in 2009 by Georgie and Sam - two mothers who wanted to do something! Having designed a few t shirts for 2-7 year olds, the feedback was such that buying for the 8-18 year old market was very difficult and could we please design something for this age group too. So we decided to focus on this difficult market! Teenagers were pooled and lots of questions asked and 'Apatchy' is the net result. We have learnt alot - !
Your style choice of gripper letters and/or patches is not cast in stone as they can all be interchanged or replaced. These patches use the latest in gripper technology allowing for a very secure and streamline attachment to the products' style area (a bit like velcro) - no ironing, no gluing and no stitching required - what could be easier!
All our products are designed by us - we know what annoys us, what we like and we are sticklers for quality and performance at a sensible price...