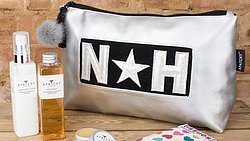 Apatchy was set up in 2009 by Georgie and Sam - two mothers who wanted to do something! What started off as pencil cases with personality soon expanded into personalised washbags and day bags to suit everyone!
Whilst we had a passion for personalisation, we wanted to stay away from the hassle of sewing, gluing and ironing. The result - micro gripper! A technology that grips just like velcro on to the style area of all our bags. And with our range of sports and hobby patches, stars and symbols (that can all be interchanged), we could create a bag that is exclusively you!
The company has expanded and developed at a rapid pace in the last two years, however our inspiration and ethos remains the same. We continue to be influenced by what's traditionally British, from the culture of London to the heritage of the countryside. Our Great British pride extends to the standard of our products, starting from the most intricate designs, to using the finest quality materials, and a great team that delivers exceptional customer service.
So far Apatchy has been a great adventure, and one that wouldn't have been nearly as great without the loyalty of our customers, whom over the years we have got to know. We would even go as far to say that they have shaped our brand to the Apatchy that it is today, giving feedback on new collections, spreading the Apatchy word to their own friends and family, and always saying hello when we are on the road visiting shows!
Please feel free to contact us with any questions or comments, we really appreciate the feedback we get!