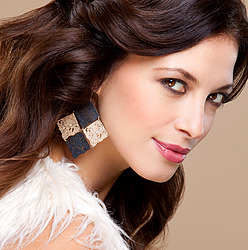 We are an online boutique that sells stunning statement jewellery, showcasing a selection of pieces by both fresh emerging UK talent and highly acclaimed international designers. We take special interest in championing our very own homegrown talent, and the UK really does have a lot to offer when it comes to luxury jewellery design.
Born out of Anna Burke's keen eye and passion for striking designer jewellery, often of a tribal nature, our boutique is carefully curated and we are incredibly selective as to which brands we represent. The pieces we sell are all beautifully handmade with love, care and attention to detail. We pride ourselves in selecting unique designer jewellery pieces that are made to an exceptionally high level of quality and will no doubt stand the test of time.
Whether you're looking for a special gift for someone, fancy treating yourself to a glitzy, glamourous statement piece to add to your collection, or maybe something a little more laid back to compliment your daytime look, we're the place for you!