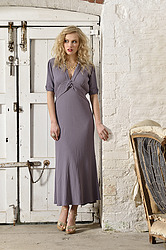 Anusha is an online boutique dedicated to bringing you fabulously feminine accessories, jewellery and gifts that make you look and feel beautiful. You won't find big-name designers at Anusha; instead, I embrace individuality and originality, specialising in products by talented young designers, with an emphasis on craftsmanship.
I'm passionate about Anusha and I hope it shows - I hand-pick everything, and I only stock things that I like to wear or have in my own home. I want every stage of shopping at Anusha to feel like a treat, from the moment you see the beautiful collection and inspirational photography on the website to the excitement of receiving your order direct to your door.
I search high and low for products that we think you'll love - choose vintage-inspired jewellery, wedding jewellery, must-have clutches and evening bags, adorable fabric rose garlands, exotic photo frames, sweet children's mini storage suitcases, Christmas decorations and much more.
I hope you enjoy shopping at Anusha as much as I've enjoyed creating it.
Elizabeth Raderecht