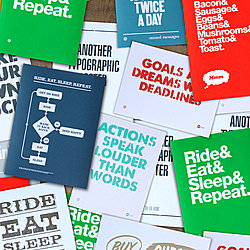 When not meeting the latest deadline, or flying down a hill on my bike, I like to play with ideas. An obsession with type led to designing posters, which have been sitting on my computer gathering dust. Until now that is. I have finally decided to put them to good use, so have created this online store as an outlet for my overactive mind. The prints are split over several ranges:
Mixed Messages: Taking two famous proverbs and mixing them up to make a new, more fun one.
The Department of Inspiration and Motivation: a faux Government Department to bring wise words to the masses.
RESR (Ride Eat Sleep Repeat): Whatever your passion, riding bikes, surfing, skating, all you really want is to do it over and over again. This is my homage to getting outside and doing it.
And of course anything else that takes my fancy.