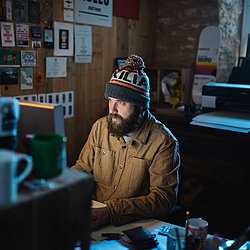 Anthony is an award winning Graphic Designer with an overactive mind, so when not meeting the latest deadline he likes to play with ideas.
Flying down a hill on his bike or running in the woods with his dog Lukka provides the inspiration, a love of typography and vintage styles supplies the means.
After a small range of screen prints quickly sold out the Not On The High Street shop was born.
Bold typography, vintage Letraset and graphic imagery sum up Anthony's style. His designs remain a homage to getting out and doing the things you love and the motivation to live life to the full.