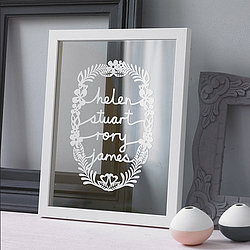 We design and create papercut pictures that use quotes or lines from songs as inspiration for the design. Since they are all created individually, they can be personalised to include any words you like - it may be a line from your favourite song or a quote that means something to you.
We also get requests to include people's names so a special gift can be made to mark special occasions such as a new births, christenings, baptisms, weddings or anniversaries (the first wedding anniversary is paper!).
All our papercuts can be supplied framed or unframed. Our frames are a popular choice since they are unusual and display the papercuts in an attractive and unique way. There is also choice of the colour of card used.