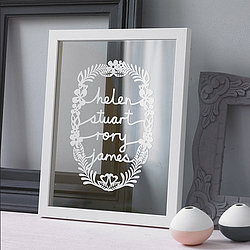 We love using design to create products for the home. Our small business began with designing and making original papercut wall art and we have now grown into designing and making gold, silver and copper foil prints (all handmade in our studio). Most of our designs are personalised so our customers are presented with something totally bespoke and customised for them.
Since we specialise in bespoke artworks, they are perfect gifts to mark special occasions such as a new births, christenings, baptisms, weddings or anniversaries (the first wedding anniversary is paper!) as well as gifts for the family such as family tree designs.
All our products are made in the UK. All our frames, including our special floating frames are made specially for us by a professional framing company based in the UK.