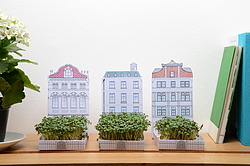 We are a small London studio, keen to create thoughtful design-led gifts.
All our products engage the receiver to make, grow, build or construct their gift. We feel this interaction means the receiver gets the most out of the product and finds it rewarding. We aim to produce products that are not already on the market (ie, we're not interested in making cushions, tea towels or mugs!).
We're trying to create 'gifts for thoughtful givers' that are somewhat different, thought provoking and in some cases educational. Our products are sold worldwide though museums or small independent stores and we are lucky to receive a lot of press in a variety of magazines, blogs and newspapers.