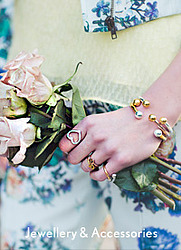 Since our humble beginnings at Portobello Road market, Anna Lou of London's creations have made a mark on the jewellery and accessories scene – elevating to international status and being snapped up by select luxury stores internationally.
This portfolio includes: Selfridges, Harvey Nichols, John Lewis, Harrods, Fenwick (UK) Le Bon Marche, Printemps ( France), Isetan, Takashimaya, United Arrows and Hankyu ( Japan) as well as brands like Rayban, Reiss, Disney, Topshop, Hello Kitty, Nokia and Urban Outfitters – all of whom have collaborated with Anna Lou of London in the past.
Anna Lou of London is now the go-to brand for one of a kind, beautifully British jewellery. Our core values are taken into account for every piece of jewellery we make, marrying Innovation, Service, Quality and Identity to create totally unique pieces.
Our range is separated into three different identities to match all personalities, but these are intrinsically linked by strong British roots:
The Regal collection offers a variety of bespoke and personalised pieces with a regal, timeless nature that capture the essence of affordable British luxury. These pieces make great gifts, and form the fundamental base of any beautiful jewellery collection.
The Britcentric collection is steeped in British heritage, and features pieces packed with personality and expression, finished with our signature crown tags. This collection is ideal for anyone wanting to make a statement with their jewellery and stand out from the crowd in something totally unique.
The Princess collection provides cute, playful and stylish jewellery for children to join in the accessories fun too. Any little girl can feel like royalty and join Anna Lou's gang with a beautiful, bright Princess piece.
Anna Lou's unique take on materials and designs throughout each collection maintains a luxurious feel – with a number of high quality Sterling Silver, rose gold and gold finishes available. All products are tried and tested before they are put to market, and materials are meticulously selected to ensure products maintain their sparkle from day one.