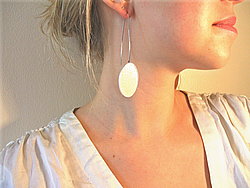 Inspired by my travels to Thailand my work is based around coral, some items include real coral pieces. Acid etching plays a large part in my work, giving each surface an individual and fascinating quality that relates to the natural coral pieces and sets them off in the most beautiful way. I combine a number of different techniques and processes to create truly desirable and wearable jewellery.
This contemporary collection elegantly adorns every wearer.
Each item has a whitened satin finish, which makes the jewellery ideally suited for wedding wear, and is beautifully packaged in a stylish presentation box creating the perfect gift.
All pieces are hallmarked with Anna Bagnall's maker logo 'AKB', '925' sterling silver mark and 'anchor', to show certification from The Birmingham Assay Office which proves authenticity. (*excluding White and Red Coral Earrings).
I graduated with a BA Hons in Design Crafts in 2009, specialising in jewellery making. I have since been exhibiting nationally. Commissions are always warmly welcomed.