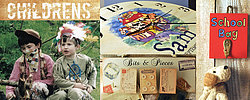 Looking for great British-designed gifts? If so then the search is over...
Angelic Hen was started in April 2002. It produces wonderfully whimsical wooden works of art designed and hand painted by Mari Lois, with the help of other wild Welsh artists in the Wye Valley.
Our high quality and quirky gifts include hand painted wooden door hangers and door signs, key rings, peg boards, strings of pegs, hooks and hangers, key racks and key hooks, kitchen tidies and the ingenious Sock Exchange. Many products can be personalised, making them excellent presents for grandparents, mums and dads, children and teenagers. Perfect for Christmas presents, stocking fillers, birthday presents, christening gifts, new baby gifts and anniversary presents.
Much of the inspiration for design comes from the six hens at the bottom of the garden - Mabel, Harriet, Lavinia, Hetty, Milly and Ethel.
Mari spent much of her formative years on a small farm in rural Wales rearing chickens. This was to have a profound effect upon her work for the rest of her life. Her early work was for card companies including many mainstream organisations such as Webb Ivory, Stationery Lines, Book Token, Probus Mayfair and Glebe Cottage Studios.
Mari still lives in the Wye Valley, with her husband, two free-range boys, six hens and two wild dogs.