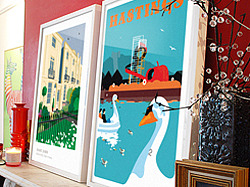 Britain doesn't look much better than through the eyes of Andy Tuohy.
Working from his seaside studio on the Kent coast, artist and designer Andy Tuohy brings a sunny disposition to his portraits of the British Isles. From Modernist architecture, seascapes and coastal landmarks to beach huts and bus shelters, his contemporary artwork captures Britain in a state of glorious, timeless idyll. Based upon classic 20th century illustration techniques, type and design, with references to vintage travel and railway posters, Tuohy's Britain is vibrant, humorous and optimistic.
Andy has been widely commissioned by British brands, institutions, festivals and museums, and has collaborated with clients from further afield who resonate with the fondness and nostalgia he holds for his subjects. Visitors to Tate Liverpool may be familiar with his A-Z of Liverpool and Merseyside, a labour of love for the artist who learned graphic design in the city in the 80s, before a career in publishing and advertising paved the way to him establishing his own studio.