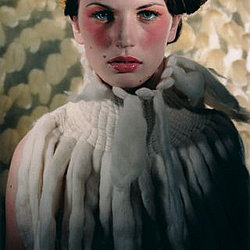 Andrea Dunne is a textile designer based in Storrington. All of her beautifully knitted, woven and embroidered products are handmade and finished in her studio which is located in West Sussex.
Her stunning collections are of the highest standard with an attention to detail, that gives all of her products a look and feel of outstanding quality. Meticulous attention to weight, tension and handling result in this top class finish. You will really enjoy wearing her scarves, hats and shawls, which achieve style as well as practicality. The interiors collection of cushions and throws will add that special touch of elegance to any room. Children and babies will love the softness and colours of her hats, scarves, mittens and blankets.
Andrea Dunne graduated in 2001 and has since been designing and making knitted products to wear and use in the home. Her work, increasingly in demand, is produced using specially sourced yarn from Scotland and Yorkshire. One of her main objectives is to keep all sourcing of raw materials and production within the UK, thus supporting the British textile industry.
Andrea is an artist who opens her studio once a year and displays her use of photography, drawing, painting and textiles to the public.