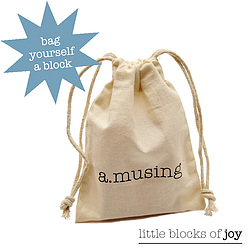 Hello and welcome to a.musing!
From the simplest of ideas, come the greatest of creations.
My name is Julie and I'm an independent designer based at the coast in the North East of England. I have a passion for simple but imaginative design, taking my inspiration from everyday observations in everyday life. There are beautifully exciting things all around us... we just have to take the time to look.
We design and make personalised gifts for any occasion. Our little blocks of joy have extraordinary powers! With their select words and nostalgic imagery they make people feel important, unique, valued and loved.
a.musing is synonymous with professionally designed, conceptually creative, quirky pieces of art that communicate an emotional message. We help people to verbalise thoughts and visualise imagination, by capturing perfect snippets of time and preserving them in acrylic blocks. We deliver that special gift which becomes a lifelong keepsake.
Thank you for visiting our shop.