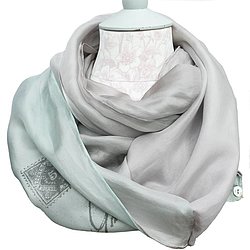 The artwork created by Amanda Jane is based around the theme of 'Curiouser stories of fairytale landscapes and childhood memoirs'. Responding to certain places and feelings with colour. This creates specific ambiences of moods, marrying colour with a feeling. The creation of these colour stories is an important and long process within each piece to recreate a moment in time. A personal place of love, adventure and fairy tales come together to remind us as an adult; what we searched for as a child.
Amanda Jane originally trained in Fashion and Textiles receiving a Merited BTEC Diploma and then went on to get a BA (Hons) Degree in contemporary applied arts at the University of Cumbria. Since graduating in 2011, Amanda has been building her brand, creating unique gifts and artwork using a combination of photography, screen printing and embroidery. Best known for her restricted beautiful colour palettes and unique style of scarf making.
All products are handmade from start to finish with hand dyed fabrics that are then stitched and screen printed, making every piece an original. It is important to the artist that anyone can take home something from the creations. This is why the product ranges from simple earrings up to the high end market installations. Commission pieces great and small are available to order if you enquire through Notonthehighstreet.com
Handmade in Cumbria, England with care.