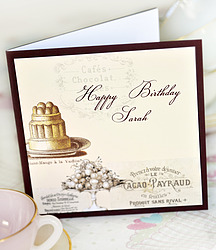 Amanda Hancocks is a uk based greetings card and stationery company endeavouring to produce quality greeting cards that are a bit different. Both cards and albums feature quotes and imagery that touch the heart or will make you laugh out loud!
We hope you'll love them as much as these customers!
"Just to say thanks so much for producing the perfect card for my Dad, this Father's Day. It is the Super Dad card and I think we still have a photograph of myself and my dad on his (father's) old velocette motorbike, taken about 52 years ago in Cornwall!"
"Hi - just to let you know I got one of your cards for my 6th anniversary on Sunday. "True love never dies". Made me cry...in a good way.So nice to get something like that from my husband - sometimes in the midst of work, kids, dogs, cats, family it's easy to forget what got it all going in the first place - true love. And nicer to know that he still believes in it."
"Had to let you know, your cards are absolutely amazing and stunning. They made me cry - they are so beautiful."
"I've fallen in love with your cards!"
"Thanks for making such great cards!"
"Recently received most humorous and most precious card from friend..."