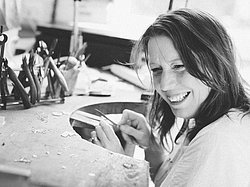 Amanda has always had a passion for making "things" when she was little she would make clothes for all her dolls and in her teens Amanda made buttons, silk scarves and hats to sell in local shops and get extra pocket money. Amanda chose to specialise in jewellery and shortly after graduating from the Royal College of Art in 1998 she set up her jewellery workshop.
All the Jewellery is handmade in silver in Amanda's Lincoln workshop with semi precious stone details and 22ct gold plate. Amanda takes inspiration from the natural world and dreams of exotic lands. She likes to create miniature scenes and stories that transport the wearer into these amazing worlds of beautiful fauna and beasts.
The Jewellery can be worn by young and old alike and has the ability to brighten up any day time outfit or add simple sophistication to evening wear. Her jewellery is on sale in shops, galleries and boutiques across the UK, Europe and Japan and has been featured on the pages of many glossy magazines and Sunday Supplements. The Jewellery has gained many fans across the world including Fearne Cotton who has the seahorse earrings and pendant.