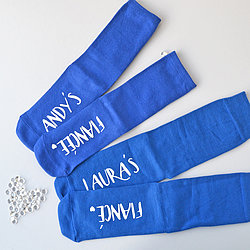 We are ALPHS the Cult Personalised Sock Company.
We are obsessed with all of the opportunities that the alphabet gives us to make gifts amazing!
We specialise in personalisation - making the ordinary; thoughtful, funny, a little bit cheeky, or romantic but always special. We do this through a constantly growing range of personalisation techniques including embroidery, printing, etching, vinyl application, painting and heat press. All our designing and customisations are done in our Derbyshire workshop.
Our range of favourite gifts with personality includes our original personalised socks, gloves, sportswear, scarves and fashion accessories. Homewares including personalised jewellery boxes, mugs with our range continually growing and developing.
We think personalisation opens up so many opportunities; we love a quirky play on words, a pretty design or motif (or both!) that truly makes the difference.
If you have any special requests or custom orders please get in touch.
Derbyshire's Best New Business 2016 - WINNER
Derbyshire's Creative Business of the Year 2016 - Finalist