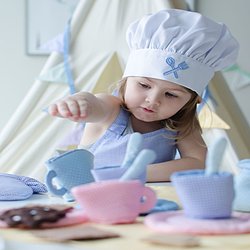 Hello and welcome to our notonthehighstreet (NOTHS) store. We are a family run on-line boutique offering beautiful toys and home accessories for babies and young children. Many of our products are fair trade or eco-friendly or both and make lovely ethical birthday presents and Christmas gifts.
Our range includes gorgeous soft play toys designed in Sweden and handmade by women working in sewing studios in the Philippines. These fun and colourful toys are designed to stimulate a child's imagination and encourage role-play.
We also have some stunning playhouses and wigwams designed in the UK and handmade by a fair trade company in rural India. The company have trained over 250 women in sewing and embroidery as part of an initiative supported by the state government's District Rural Development Agency. The fabrics used to create the playhouses are hand-woven and hand-dyed using traditional Indian techniques. It takes at least 15 hours sewing time to create one playhouse.
Our traditional rag dolls are handmade in Sri Lanka. As well as paying a fair wage and providing decent working conditions, the company that make them are trustees of the Swim Lanka charity which provides support to children from tsunami affected areas.
We have recently discovered some fantastic wooden toys from a German brand which takes sustainability extremely seriously. All the wood used is sourced from places where it can grow back again and the company plants a tree for every baby born in the Schleswig-Holstein region. We are (very) slowly adding these to our NOTHS store so watch this space (and ask if you are looking for anything in particular).
We love each and every one of our products and think they are ideal ethical gifts. We take great care in selecting products we believe will last so they can be passed on to siblings or friends and only offer personalisation on a limited number for that reason.