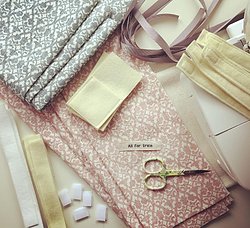 All for Erica offers a stylish range of contemporary gifts for men, women and the home. Each item is made to order and may be personalised to your specification…simply designed with you in mind.
I'm Lynn Wilkins and I'm the owner of a small creative business called All for Erica. I am passionate about fabric and design, and what started out as a hobby almost ten years ago soon became a full-time thriving business (formerly known as Wee Treasures). I have several years experience of making products for the family and home, as well as participating in textile courses at Open College of the Arts and Edinburgh Art College.
Creativity is part of my family heritage. My father came from the Baltic region and I have been influenced by the beautiful design and excellent craftsmanship of the Latvian culture and people. My designs are an infusion of Scandinavia and Scotland – contemporary with a touch of tweed!
The All for Erica range of products was inspired by my love of soft tactile fabrics and beautiful patterns, and above all simple design. Erica was my Aunt whom I never met but I like to think she would be proud of my Latvian-inspired collection of lovely things. This is my ode to Erica.