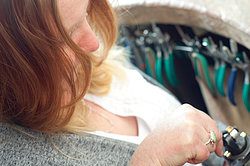 I'm Alison and I live on an island far, far away... welcome to my wee shop.
Just off the most northerly tip of Scotland lies a group of islands called Orkney. Here you'll find me working away in my studio creating unique pieces of jewellery.
It was on our honeymoon when my husband and I fell in love with the islands. Within a year we had upped sticks and moved to this inspiring place enabling me to follow my passion for working with metal.
Living in such a beautiful place, of course my work is influenced by these wonderful surroundings, but I am also inspired by what is happening around me – whether it be the environment, an unusual gemstone, fashion, moods or memories.
As a former student of geology, I love rocks! So it isn't a surprise that I add gemstones where ever I can to my jewellery which add touches of colour, light and sparkle. My work reflects my own personal style as I aim to create unique pieces that are understated, timeless yet utterly contemporary. I try to create work which is elegant, with simple yet distinctively clean lines. My style has been described as refined whimsy.
I hope that you find my jewellery refreshingly pure, and most certainly to be treasured.