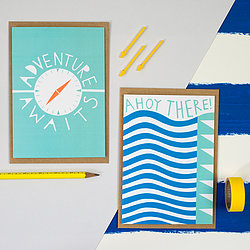 Alison Hardcastle is a stationery and design studio based in Yorkshire, UK.
Integral to all of Alison's work is her passion for good design, typography, illustration, creating and screen printing. The giving and receiving of beautifully thoughtful well-designed and carefull chosen cards, stationery and prints is a joy. We believe there's so much more to it then picking any old card or stationery off a shelf to give to someone. It's so much better to hand-pick a beautiful card which befits the recipient perfectly and uniquely.
To compliment our cards and stationery we now also have a range of high quality bold gift wrap suitable for all occasions - It doesn't even have to be just for wrapping presents! You could line shelves, make party hats or use it for craft projects!
Our stunning hand-pulled screen prints are an excellent gift (for others or to yourself!) and will cheer any drab wall or corner up! Added to this is our range of typographical Word Maps created in collaboration with Snowhome of York. These are always a winner in the gift stakes and make the perfect talking point.
All products are produced in the UK and cards, envelopes and paper stock used are fsc certified.
We're always busying away on something new so check back often to see what we've been up to. Thanks for visiting!