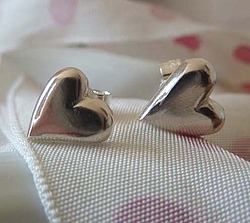 Alison Baxter has had a thriving business making jewellery for many years and her contemporary designs continue to appeal. She has a degree in jewellery from Middlesex University.
Alison is passionate about creating striking affordable jewellery and is inspired by her beautiful garden and the coast close to her studio in Sussex. She makes stylish jewellery from silver and resin using simple shapes to create dynamic everyday earrings and pendants.
Each piece of jewellery is made by Alison from her own designs. Her work can also be seen in a select number of galleries around the country but some designs are exclusive to notonthehighstreet.com.
Jewellery is delivered to you in a deep lilac box where your jewellery nestles on a soft white bed.