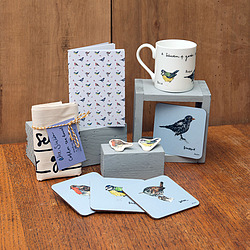 Welcome to the shop of Alice Shields Ceramics. Based in Bristol, Alice took the plunge and set up her small business in late 2011. She specialises in creating a unique range of ceramics for the house, garden and cardigan adornment.
Alice's range of ceramic plant labels, house signs, coasters, badges and cufflinks are all handmade from earthenware clay and are personally decorated with her own beautiful transfer illustrations. No two items are exactly the same, but these slight variations are what adds that extra individuality to her work. Alice prides herself on making a range which has functionality, whether it's helping your guest find the downstairs loo with her house signs or knowing that her coasters might make that mid morning coffee that little bit more of an occasion is the reason she keeps rolling out clay every day.
Working with decal transfers has enabled Alice to continue her love of drawing and inspiration is found in the great outdoors spying on birds to imagining what her ideal home will look like with Agas and roll top bath tubs. Even those pesky moths that have taken a shine to her collection of gloves are featured on her coasters and her love for the eccentricities of British style is found in her moustache, bicycle and pocket watch cufflinks and badges.
The ideal gift for any family member, friend or colleague; creating beautiful and affordable Ceramics for all occasions that you can use and treasure for years to come is at the heart of this unique collection.