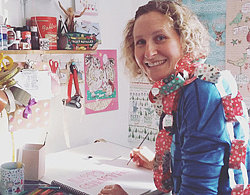 Welcome to Alice Palace - established in 2004, we are a small family run British company, creating a gorgeous range of personalised stationery, homeware, gifts and wedding accessories.
The distinctive style, charm and collage of hand illustration, patterns and words make our products beautiful, and perfect pieces of art in their own right; the more you look, the more intrigued you become!
All of our products are designed and printed in England. Choose from eco friendly greeting cards and wrapping paper, and personalised products such as kitchen boards, pet sacks, bags, big aprons and littler aprons, coasters, laundry sacks, clocks, mugs, cushions, toy sacks, party bags, Christmas sacks, bottle bags, placemats, chalkboards, and prints!
We hope you will love our products as much as we enjoy designing them.