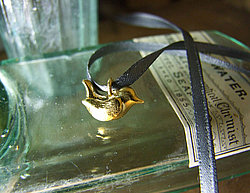 Alexis Dove is an award winning British designer of contemporary jewellery collections inspired by nature and ancient cultures. Handmade in her Lewes shop in the heart of the Sussex countryside, Alexis takes inspiration from from the beaches and downland that surround her.
After studying for a degree in Agriculture Alexis travelled around the world where she discovered a love of fine jewellery and design and decided to re-train as a jeweller at Sir John Cass in London.
Each piece is made from solid sterling silver which comes in polished, oxidised or rich gold vermeil finishes, attention to detail and craftmanship is what makes Alexis' jewellery stand out, pendants are finished with a beautiful handmade catch complimented with tiny seed pearls and an Alexis Dove tag and all purchases come in her own branded packaging.