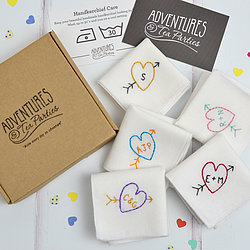 Welcome! My name is Joanna and I am the designer and creator behind Adventures and Tea Parties. I have been designing ever since I was able to pick up a crayon and this has continued with a constant flow of creations.
Many things inspire my designs: beautiful colours, patterns, textures, objects and accidental combinations of all of these.
My handmade, bespoke range is made in mind with those ladies and gentlemen who like beautiful, unique accessories that can be treasured for years to come. Everything is made entirely by hand, including the handkerchiefs which are made from start to finish and finished off with your very own personalisation embroidered by hand.
All items are sent in branded Adventures & Tea Parties boxes and all postage is free.
I am always here to help, so if you have any questions or are in need of assistance, please do drop me a line.
Thanks for stopping by and happy shopping!